7 Best Ghost CMS hosting providers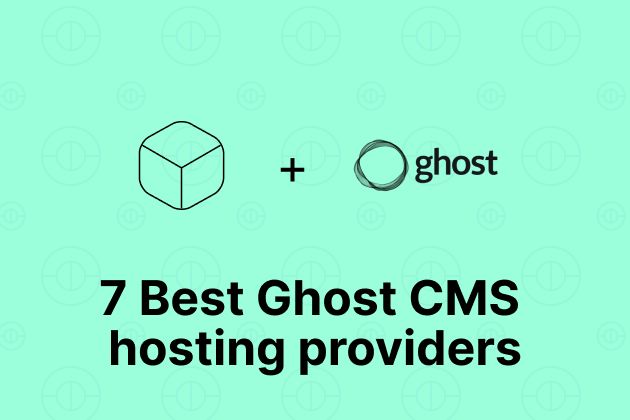 What is Ghost CMS?
It's only CMS, and it is a great one! :)
Ghost CMS is a powerful, open-source blogging platform for creating and managing digital content. Simplifies the process of designing, writing, editing and publishing content on the web.
What to look for in managed Ghost hosting?
Make sure that the Ghost hosting provider offers features like:
Unlimited members
Unlimited staff members
At least 999+ newsletter emails - so you can grow your newsletter list.
Decent amount of storage
Free SSL certificate to secure users' data when accessing your website.
Custom integrations
Daily backups in case anything happens to the site or its contents.
Ghost updates - to stay up-to-date with the latest security patches and bug fixes.
Managed Ghost hosting - what is that?
If you don't have the technical expertise to run and manage a server, Managed Ghost CMS hosting is your cup of tea.
A managed Ghost hosting provider helps you set up your site, allowing you to keep your focus on the content creation aspect of the project.
The best Ghost hosting services can provide you with an automatic setup of websites and support for many databases. With managed Ghost CMS hosting, you'll be in good hands so your project can start faster and run from start to finish!
Where can I host a Ghost website?
Ghost (pro)
Midnight Ghost Hosting
Firepress
Gloat
DigitalPress
FastComet
DigitalOcean
Ghost (Pro) hosting is an official Ghost CMS hosting with a managed setup for their blog or website. Experts from the Ghost (pro) team handle all the technical difficulties. This lets you focus on writing your content without worrying about infrastructure.
The admin interface is simple and intuitive, so you can rest assured that everything will run.
Ghost (Pro) hosting offers several tiers and features:
Managed Ghost install & setup
Automatic weekly updates
Maintenance & backups of your website
Uptime management
SSL Certificate
Worldwide CDN that is included in the package
Enterprise-grade security
Here is the pricing for the Ghost hosting:

If you're looking for a hosting provider specializing in Ghost CMS, Midnight Ghost Hosting is the perfect option. Midnight Ghost Hosting is one of the leading managed Ghost hosting services. They provide top-of-the-line performance, ensuring your website runs.

With managed Ghost hosting from Midnight Ghost Hosting, you no longer have to deal with heavy configurations. They provide all the necessary automatic updates. Best of all, their responsive support team is available 24/7 to answer any questions.
Midnight Ghost hosting features:
Completely pre-configured Ghost blog installation
They take care of server maintenance, monitoring and security updates.
Your Ghost Blog is hosted on enterprise-grade servers with solid-state disks.
Your Ghost website will have an SSL/TLS certificate for secure HTTPS browsing.
Everyday backups.
24/7 support via chat & email
Midnight Ghost hosting pricing options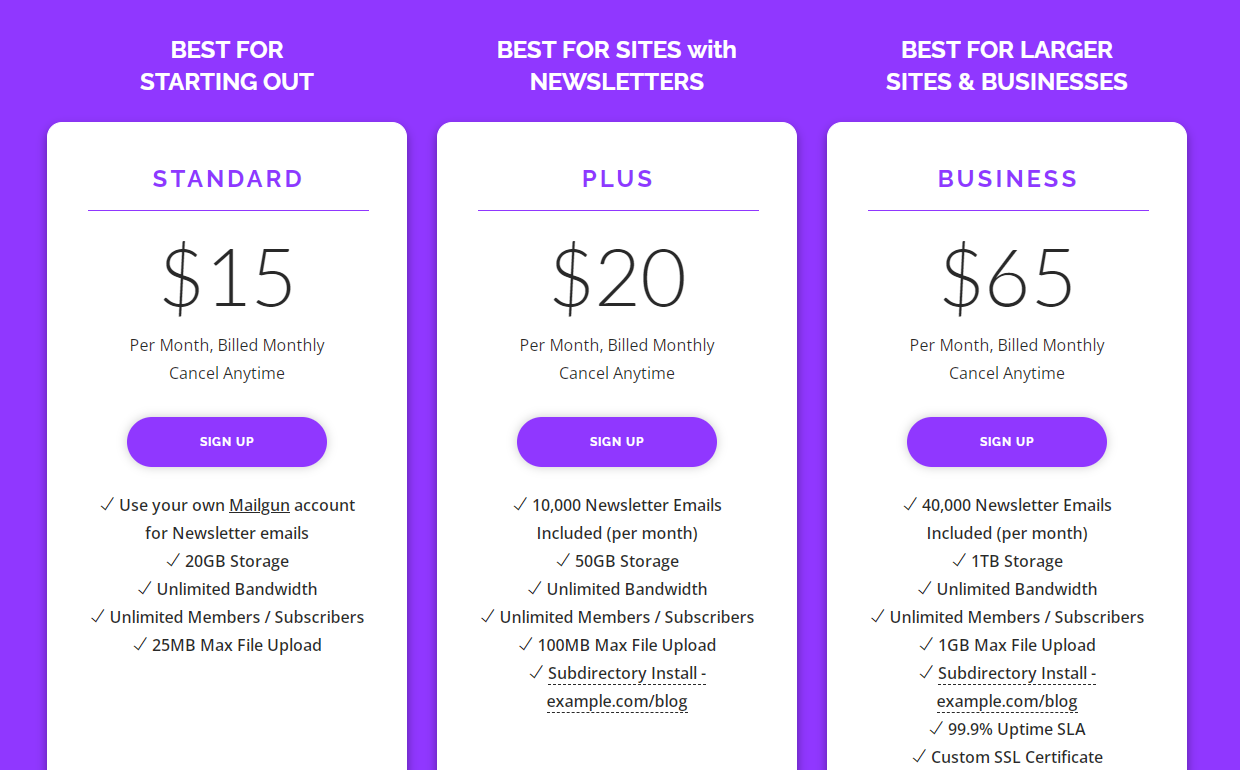 FirePress offers managed hosting solutions for the Ghost CMS, providing an easy and reliable way to host your blog or website. You won't have to worry about server maintenance and scalability—they have that taken care of, so you can focus on producing great content.
Firepress Ghost hosting features:
A managed hosting solution for Ghost
Neat option to add a custom homepage page in front of your Ghost installation.
Unlimited staff users
Unlimited visits & traffic bandwidth
Upload up to 500 pictures /month (they do this to prevent abuse)
Pre-installed ghost themes, and you can add yours as well
Cloudflare CDN
Automatic SSL for your Ghost blog (HTTPS)
DDoS attack mitigation
Automatic weekly updates
Automatic daily backups - transferred outside their server cluster (cold storage)
Threat & uptime management with an SLA of 99.999%
FirePress pricing options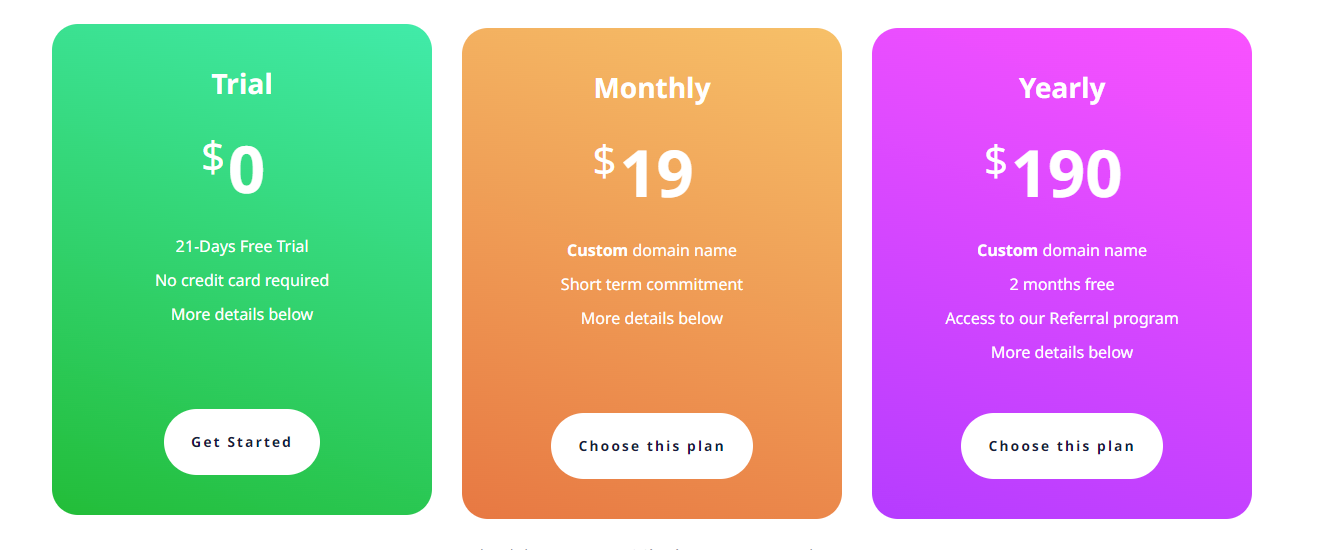 Gloat Ghost Hosting is a bit different website hosting solution. They are the most personalized Ghost Hosting solution. With Gloat, you get unlimited page views, subscribers, authors, bandwidth and media storage - plus up to 20,000 newsletter emails per month. And with no extra or hidden fees, you can ensure your website stays secure and performs.

They are designed to be simple and easy to use. Bring your domain (or use a free ongloat.com subdomain) and receive a free SSL certificate from the start.

With top-notch customer service, they offer free migration help from any previous host.
Gloat Ghost hosting features:
Always the latest and greatest Ghost software.
A blog or a newsletter or both
Unlimited page views, subscribers and authors
Unlimited bandwidth and media storage
Up to 20,000 newsletter emails per month
A site ready for paid memberships (with no extra or hidden fees)
Use any Ghost theme from any provider.
Use your domain (or a free ongloat.com subdomain)
Hosting on a sub-directory, like yourdomain.com/blog/ (this requires tech work on your end)
A free SSL certificate
Unlimited integrations
Pick a San Francisco, New York, London, Amsterdam or Singapore server.
Weekly Ghost software updates
Daily content backups
Migration help from a previous host
A personal installation and friendly email-based support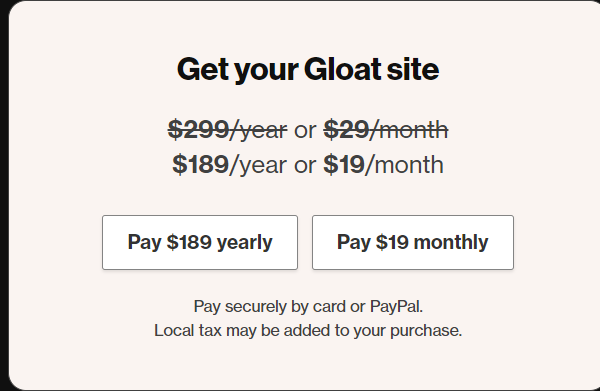 DigitalPress Ghost Hosting is an excellent solution for bloggers and content creators who want to take their blog or website to the next level. With DigitalPress Ghost Hosting, you get all the features of our free plan plus 10GB of storage. Plus, you also get advanced features such as custom domains. So you'll have everything you need to create an attractive and professional website.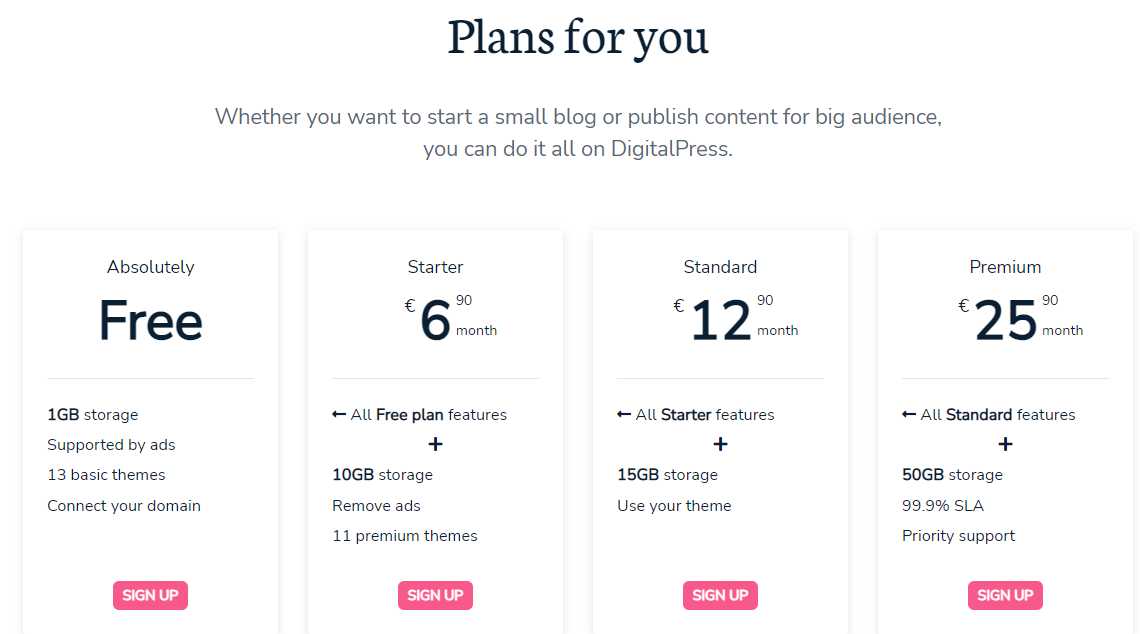 FastComet Ghost hosting plans offer a nice list of comprehensive features. cPanel service with extra features such as email accounts and one-click app installers. This is available from excellent value for those looking to create a Ghost site on a budget.
Since newsletter emails are not on the FastComet feature list, you must configure Ghost using Mailgun. However, they provide comprehensive documentation and help guide setting up Mailgun if you're unsure how to do this yourself.
One of the best things about FastComet's Ghost hosting plans is the ability to scale up. In addition, their flexible pricing structure allows you to upgrade plans when needed.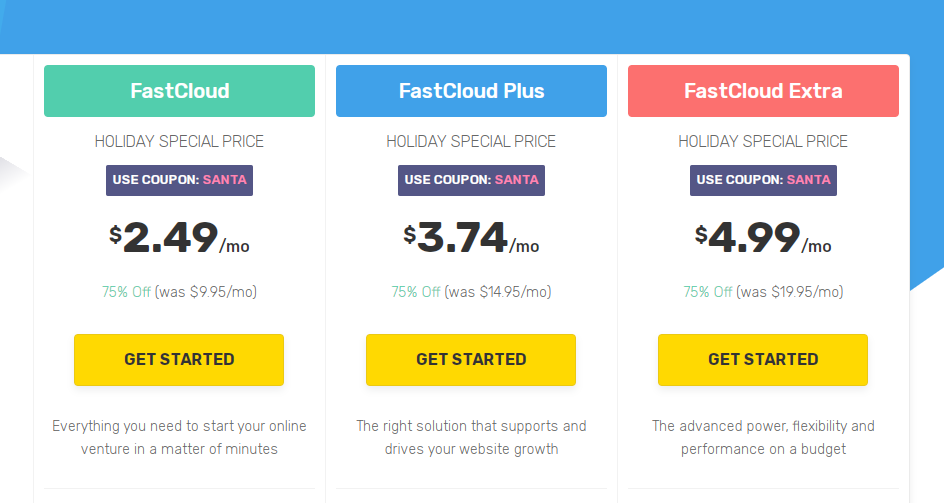 With DigitalOcean Ghost Hosting, you can deploy a hosted Ghost instance in minutes.
Also, you will have complete control over your digital environment. For example, create custom domain names, and manage updates and security patches. You can also access your website using pre-configured software environments and much more.
Get $200 in credit for 60 days!
DigitalOcean Ghost hosting allows users to scale up their resources anytime. This service is an excellent value-for-money hosting solution that you can scale anytime. It also allows the quick deployment of websites.
Ghost Themes
Take a look at our Premium and Free Ghost Themes that will help you start building your new Ghost Publication.
Explore Ghost Themes